H.R. 952 and S 654 = Torture Prevention
Mood:
on fire
Now Playing: I wrote this to my Congressmen on Tuesday
Topic: TORTURE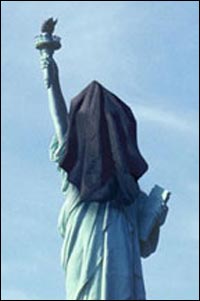 Dear Representative,

U.S. obligations under federal law and international treaties prohibit the transfer of any person to any country where they are likely to face torture. Nonetheless, the U.S. government is reported to have sent or been complicit in sending individuals to countries such as Egypt, Jordan and Morocco, whose governments the State Department has criticized for practicing torture. I urge you to cosponsor and pass H.R. 952, the "Torture Outsourcing Prevention Act" and to cosponsor and pass S. 654, the "Convention Against Torture Implementation Act", or similar legislation aimed at ending "extraordinary renditions."

The first paragraph of this letter I copied from a website urging me to take action against the use of rendition by the United States, which I whole heartily agree with. This last paragraph is my own plea for you to pass these acts that will help restore not only our morals but the honor and righteousness we used to be proud of. This type of treatment in regards to captured prisoners and the fact that the USA is using shady over seas prisons to interrogate them, is uncalled for and unethical for a country that cares or I mean should care about Human Rights. The very act of flying prisoners to countries like in this email reference makes me ashamed and angry. What happened to our courts and trials and humane laws that were supposed to be enforced with pride and valor, and integrity? What happened to our respect for not only "prisoners" but for Life and Morals and a Nobel Honest Government? How this practice came about, and who is responsible for allowing this degrading backslide from our Military? And what happened to the accountability to the Government body and the oversight by our elected Governmental body that would oversee enough to not allow this outlandish rendition practice. Now I urge full support to pass H.R. 952 and full support for S 654 so this unacceptable sick procedure stops as soon as possible. The fortitude of America has its roots in sane ethics; please seal that in these measures by passing them.

I thank you for taking the time to read my letter.
I look forward to seeing you support these measures.
Receiving a response back from you is not necessary
I would rather you use your energy and time to stop this horrid practice.


Thanks for Listening,
Joe Anybody
USA

Click here for my posted letter on "Letters To Congress" Website

**** more Rendition information from my blog on January -30-06 ****
Check it out HERE!

Posted by Joe Anybody at 1:21 AM PDT
Updated: Wednesday, 21 June 2006 1:32 AM PDT