Looks Like our Democracy Crusade is Fruitful
Mood:
vegas lucky
Now Playing: $ Afgan Drug Trade $ = Police Commandeers Getting Rich
Topic: BIG MONEY PLAYERS
Let me start this by saying the following is the disclaimer from the Christian Monitor which was at the end of their article, I thought it should be read by you all first (please read The short Article on the Drug War Corruption in Afghanistan)
****************************************************
A note on how we (Christian Monitor) reported this story
The Monitor used a reporting device in this story that it normally avoids: The key interviews, all taped, were with sources who did not realize they were speaking to the press. This presents a risk to fairness and privacy, in that the interviewees might speak more casually and loosely than they would if they knew they were speaking to a reporter. We decided to go forward for several reasons. The subjects in these interviews are all public officials, not private citizens, discussing what should be public business. The issue of drug trafficking, illegal in Afghanistan as nearly everywhere else, is critically important to the future of that country and others. We could find no other safe way to collect direct evidence of this official corruption. But because we could not directly confront these police chiefs without endangering the lives of reporters or interpreters, we decided to withhold their names.
- The editors of The Christian Monitor
Now here is the Link to the article:
Christian Monitor Undercover Article
which is about the CORRUPT drug trade that is flourishing and out of control. And the key or should I say the only big players are the Police.
This article opens your eyes to how far out-of-control this has become. I wonder if this has any result in our "Spreading Democracy or Liberating?"
In a country where illegal business generates $2.7 billion a year, which is over half the value of the country's legal economy,and as one commandeer said "It's not the responsibilities that I like the most, it's the access to the drug trade, It is a good position," he says. "I pay $1,000 and get $20,000 in profit."
"Fellow Zebra 3 readers ...Welcome to Afghanistan!"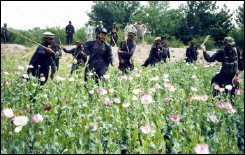 Posted by Joe Anybody at 10:36 PM PDT
Updated: Saturday, 24 June 2006 3:42 PM PDT