USA builds Wall of Hate
Mood:
don't ask
Now Playing: Border Hell Wall
Topic: IMMIGRATION
Now Internet Surfer from over in the the Free World
"
Get to watch web cams of the border Wall of Hate
"

From the BBC link -->
HERE I read this lovely story about how web users worldwide who are now are able to watch the Texas' border with Mexico and
phone the authorities if they spot any apparently illegal crossings.
Boy aren't they being high-tech sporty?
It's almost like hunting when you have all the cool modern tech gear.....!
Wasn't there a few movies on Hunting Humans done by Hollywood?

As they get ready to spend 5 million on cameras in Texas.....over in California another heart-warming story is going around. That is one of adding Military troops to the border soon ....at least that is what I am hearing in my little corner?

I hear too that Human Rights Groups have accused the Minuteman group of xenophobia towards illegal immigrants - but the group denies this which is not suprising!

And for the sake of being clear the word xenophobia means
"A person unduly fearful or contemptuous of that which is foreign, especially of strangers or foreign peoples"

Well isn't that interesting, sounds paranoid to me too!

Hey! ...Wait Z3 Readers,
I see right now! ....as I get ready to post this.
Yet another "Love Heart-Filled Group" has joined in on the rally.....

......or did I say rage of anti-immigration?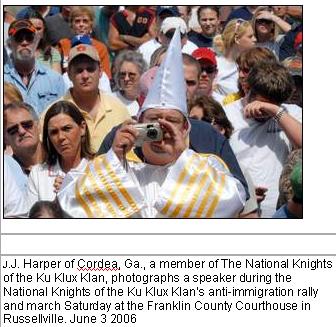 So my dear redaer.... Right Here is that story of KKK marchers protesting the proposals to give illegal immigrants amnesty and chanting in support of calls to deport them.
Yelling anti-immigration slogans such as "Send them back!" and "Let's get rid of the Mexicans!"

Ya ...somehow I think I did say Rage!
We all Know that --> You got to "sow love to get love"
It is going to hurt to watch this all go down.
It makes me think of the Israel Palestine border debacle which is a border hell zone of HATE.

***********************************************
***********************************************

Speaking of Immigration..... did you happen to see the short animated movie clip on the original 1621 Immigration Debate of joe-anybodies forefathers?
Well Here it is --> https://www.youtube.com/watch?v=YhEl6HdfqWM


Posted by Joe Anybody at 12:01 AM PDT
Updated: Saturday, 3 March 2007 5:17 PM PST