How to use a RSS Reader Install tips for Sharpreader
Mood:
celebratory
Now Playing: News Reader - how to use and install RSS ( really simple syndication )
Topic: MEDIA

This little orange Icon lets you know the webpage url is ……..supported by an RSS feed
(which many News websites are now doing)
The orange Icon is usually is found in 2 places: top right or left side, near the bottom
of any websites that support this feature.
Whenever I read a website I like I then look over the page for this little Icon, if it's there I then know this website will work in my RSS reader client.
To downloadIcon page You click on the orange icon ….. then a new page will open ….. "Just copy that new page url address" and paste (or save) it into "your reader"
The "reader" that I am using its called Sharpreader.
(there are many other ones out there and they all are FREE!!)
.
.
Just read the intro and download the installer – that would be "your RSS reader "This instruction on that page – for me …….. I just ignored the NET part reference I didn't have to mess with NET Framework
(But if you need to I think it's simple to install)
But first just try to install your reader and don't worry about the NET issue ….. ……..unless you have problems – if you do then come back and install the NET….
.
Prior to running SharpReader, you will need to install the .NET Framework, version 2.0 or version 1.1 SP1. If you do not currently have the .NET Framework installed, you can get it at windowsupdate, or here.
If you can't install Sharpreader
then come back and do this suggested:
NET Framework install
.
---
(PS) - if your Microsoft window upsdates are current you probab
ly already have the NET Framework installed.
---
.
Once you have installed the Sharpreader client
your ready to hunt for url's that are supporting RSS
(Also known as an XML feed)
Just --> Copy past those url's you find…..
into your reader ……….
into the address bar ....located at the top …………
And then hit the "subscribe button".
Below in the screenshot / picture is my Sharpreader …
see the Subscribe button near the top (Pink Arrow) And see the (Green Arrow ) point to where you will paste the URL for website you want to put into your reader.
Then by double clicking on any article in your reader you will open that original website, otherwise scan headlines and read paragraphs all inside your reader This allows you to see allot without having to open mass website just to read their headlines. Your reader does it for you.
Using a RSS reader make it easy to skim many (News and Video) sites looking at the recently posted article titles then seeing a short paragraph about each title. When you see an article you want more information on, just double-click to go to that website and see the complete page; "outside of your reader client"
---
Here is a link to more info on RSS feeds
http://en.wikipedia.org/wiki/RSS_(file_format)
(Which stands for really simple syndication)
Good Luck – If perplexed just drop me an email
Google and others are now providing their own "RSS readers" that are easy to access and maynot have to be installed like the Sharpreader that I prefer to use.
The developer for Sharpreader was in the forefront for this technology 10 years ago, when it was "new".
Before installing Sharpreader you should look at other RSS readers you may find an easier to use newer program. I myself am still using Sharpreader
6/2011 -joe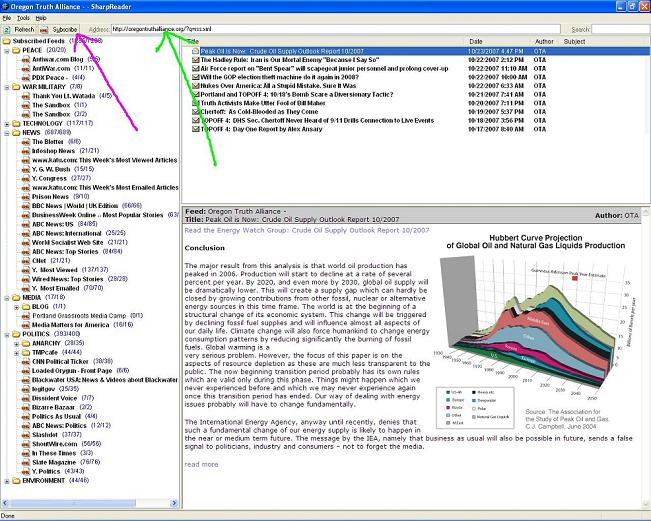 Posted by Joe Anybody at 12:11 PM PDT
Updated: Wednesday, 29 June 2011 4:07 PM PDT