John Negroponte, Torture and Lack of Policy Continues
Mood:
don't ask
Now Playing: Spin on an Old Game = Death of Prisoners Nobody to Blame?
Topic: TORTURE
The last 3 paragraphs of an article By Will Dunham for Reuters was found here at -->
Altnet.com
It sums up this Out of Hand USA Torture Topic pretty well.
It said civilian policymakers have given unclear and sometimes unlawful guidance on detainee treatment, but also blamed U.S. commanders in Iraq and Afghanistan for failing to exercise good judgment.

"It's my opinion that torture became a common Army practice in Iraq because generals and colonels and majors allowed it to occur, even at times encouraged it.

"Soldiers became torturers because their chain of command chose to look the other way," said retired Army Brig. Gen. David Irvine, an adviser to Human Rights First.
The human rights lawyers (and a retired military General) report also mentioned ......
as of Feb 2006:
At least eight detainees of the roughly 100 who have died in U.S. military custody in Iraq and Afghanistan
were tortured to death, human rights lawyers are claiming.

And that of the 98 deaths it examined, only 12 led to punishment of any kind for U.S. personnel.

"People are dying in U.S. custody and no one's being held to account," said Deborah Pearlstein, who heads the Human Rights First U.S. law and security program.
Then I skip on over to some History from 1980.
This link about John Negroponte, who is our current
US National Intelligence Director.
And who used to be the
US ambassador to Iraq
from June 2004 to April 2005.
The article discusses this clown and seems to show that the US policies still represent some of the same attitude all over again from major past mistakes that never ever were or will be corrected!
From the website -->
TRUTHOUT.ORG
I notice it has some more ugly facts on
the roots of torture and the good ol NEOCON BOY"S romp through Honduras
.
Staring Rumsfeld, Negroponte, Regan and more.
I read these old war stories and find them sounding an awful lot like todays war/horror stories!
It looks to me like atrocities and torture and lack of oversight and NO ACCOUNTABILITY continue on in full American Pride and tradition.
Odd how all this
seems to never-end
when all these clowns are in charge. Face it Z3 Readers, the NEOCON warlords will continue to treat humans like this regardless of what country or what we citizens think our laws protect or cover or represent.
They will continue.....until they are in prison themselves!
This torture just as Negroponte has done throughout his tenure with our Military will continue as long as bushman is in power.
America has the blood and the scars to show proof:
That The Bushman and His Crime Family
DO SUPPORT TERRORISM AND TORTURE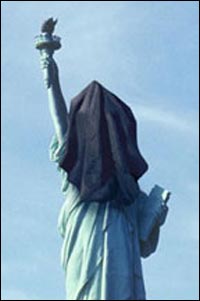 FREEDOM MY ASS
We are The Country that Tortures Humans
Live With It!

Posted by Joe Anybody at 11:43 PM PDT
Updated: Tuesday, 18 April 2006 2:19 PM PDT